Welcome to this Virtual Cookie Exchange!

I dion't know about you, but I LOVE a good Christmas Cookie...

And I would really love to see YOUR favorite Christmas Cookie Recipes.

How can I participate?
1- Write a blogpost about your favorite cookie recipe (post the recipe)
2- Link Back to Little Llamas
2- You can grab the Little Llamas Cookie Exchange Button for your post if you want
3- Enter your blog post into MckLinky (make sure you put the actual post address, not just your blog address)
4- Enjoy the nice little holiday blog hop as you learn some new recipes.
5- Happy baking (and eating!)
But I don't have a blog
??
No blog? Christmas is a great time to start a blog!
If you would like to
e-mail me
your cookie recipe, I will add those recipes to the end of this post. Your recipe will post here, and you can also still visit all the blogs through MckLinky.
YUM!!

So, hunt down those favorite recipes, start blogging about them, and join in with MckLinky! I will keep this post up to date over the next few weeks. You can click on the button on my sidebar at anytime to come straight here to get all these yummy cookie recipes!
And you know the best thing about this cookie exchange... calorie free!

Don't forget to grab this button to post on your blog!
(just copy the code and paste into the HTML tab of your post!)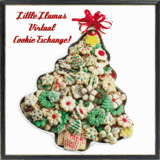 In case you are wondering which recipe to post, a few of my favorites are:
classic sugar cookie with a good hard glossy icing, 7 layer bars, fudge, chex chocolate mix, Peanut butter balls dipped in chocolate, peppermint meltaway.
~~~~~~~~~~~~~~~~~~~~~~~~~~~~~~~

Peanut Butter Blossoms

--
Mama Llama
48 Hershey kisses

1 1/2 cup flour

1 tsp soda

1/2 tsp salt

-mix above

1/2 shortening (I have always used butter)

3/4 cup peanut butter
1/3 cup sugar

1/3 cup brown sugar

1 egg
2tbs milk

1 tsp vanilla extract

Heat oven to 375

Mix butter and peanut butter, add both sugars and beat until fluffy. Add egg, milk and vanilla. Beat well. Mix in flour mixture and beat.

Roll into 1 inch balls. Roll in white sugar

Place on ungreased cookie sheet. Bake for 8-10 minutes or until lightly browned.

Press down 1 Hershey kiss in each cookie immediately.

~~~~~~~~~~~~~~~~~~~~~~~~~~~~~~~~~~~~~~~~~~~~~~~~~

Oatmeal Cranberry White Chocolate Chunk Cookies

-- Melanie
Ingredients:
• 2/3 cup butter, softened
• 2/3 cup brown sugar
• 2 large eggs
• 1 tsp. vanilla
• 1 ½ cups old fashioned oats
• 1 ½ cups flour
• 1 tsp. baking soda
• ½ tsp. salt
• 1 6 oz. package Ocean Spray Craisins Original Dried Cranberries (or about 1 cup)
• 2/3 cup white chocolate chunks or chips
Directions:
1) Preheat oven to 375 degrees.
2) Using an electric mixer, beat butter and sugar together in a medium mixing bowl until light and fluffy. Add eggs and vanilla, mixing well.
3) Combine oats, flour, baking soda and salt in a separate mixing bowl. Add to butter mixture in several additions, mixing well after each addition. Stir in dried cranberries and white chocolate chunks.
4) Drop by rounded teaspoonfuls onto ungreased cookie sheets. Bake for 10-12 minutes or until golden brown. Cool on a wire rack.
Notes:
I added the vanilla to this recipe because I thought the cookies were too bland with out it.
~~~~~~~~~~~~~~~~~~~~~~~~~~~~~~~~~~~~~~~

YUM! Happy Baking!

And thanks for participating in the Little Llamas Virtual Cookie Exchange!